Jenny Walker, BA (Hons), LGSMD Piano Teacher, Performer, Composer - Grantham UK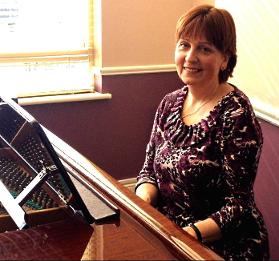 Click HERE for privacy policy
Click
here
for articles about Jenny
"Listening to *** practice every morning. It makes me so happy. She is tutored and encouraged by her lovely teacher Jenny weekly via virtual lessons during lockdown"
"Thanks for all your support. It's so lovely to hear her play for us (as she always ups her game!) and to hear her chatting pleasantly with you."
Piano Teacher and Violinist
Jenny is a popular and experienced piano teacher based in Grantham, Lincolnshire. She holds a performance diploma, is a professional member of the European Piano Teachers Association and Incorporated Society of Musicians, and is DBS checked.
She also teaches violin, plays fiddle in a ceilidh band, performs, directs music, and composes.
She has a passion for music and has played many genres, including classical, popular, jazz and folk.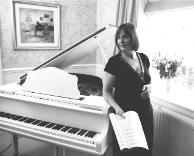 Nick Bailey mentioned my name! See 26 mins and 40 secs in (unless you want to hear the rest of this excellent broadcast)
Jenny has worked with various groups in the UK before moving to Lincolnshire where she has overseen productions of shows including The Mikado, HMS Pinafore, Sweeney Todd, Fiddler on the Roof and Carousel. She has played for pantomimes, swing bands, pit orchestras and been a violinist in string ensembles.