Jenny Walker, BA (Hons), LGSMD, MSIM Piano Teacher, Performer, Composer, MD - Grantham UK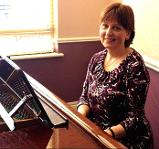 ... popular and experienced, a professional member of EPTA and the ISM , DBS checked, violin teacher. Currently working at KGGS Grantham and at home.
... classical, popular, jazz, folk, swing, pit bands, string groups, solo pianist, fiddle player. A performance diploma, good sight reader.