Mourne Passage - available at Piano Pronto
A set of 12 technical studies using a variety of tonal centers and time signatures.
A captivating descriptive piece depicting an Irish stream from its small pure beginning high in the hills gaining volume and depth as it torrents through the forest. A reel interrupts the flow as the water dances over rocks and echoes of the stream are heard as it is swallowed up by the ocean. Winner of the 2014 European Piano Composers Competition,
'I inherited a diligent, hard-working 16yo boy. He found a piece on the internet that was very flashy and long, but it was without composer or copyright, not eligible to be a part of his exam repertoire. Thankfully, I knew of the Composer Community, found this great piece, and he immediately liked it. It is exactly as the description says--substantial and captivating, depicting a stream and its journey. WIN for both teacher and student!'
Click the image below for a YouTube recording: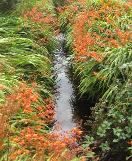 Mourne Passage - 1st Prize, EPTA 2014 - Reviewer Camden Reeves
"A substantial and strong piece - lots of excellent ideas here, and very well executed.....There is a trace of the influence of Debussy, with the colourful added note harmonies. Very good use of pedal points, and the unusual harmonic and tonal twists are very effective."