These pieces are published by Piano Pronto To listen to a piece, please click on the picture and the Piano Pronto player will be activated:
Silent Night Duet played by Hannah and Payden at Vivo Harmonics (Canada) - click the image to play
"Best Christmas Duet ever!! This piece has so many unexpected layers to it, I absolutely love it!!
😍

Thanks to Jenny Walker

for creating such a unique piece of music!

When we performed it, the audience was completely focused and captivated during the entire piece."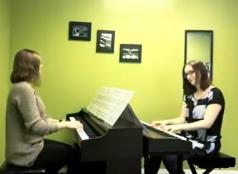 Glad Rags: "Very excited to have this piece. The music expresses so much happiness! I'm looking forward to the enjoyment of playing it." (Lisa) "This is absolutely charming ... imagine if Scott Joplin and Antonio Carlos Jobim collaborated on a piece, and this might be the result! Audiences will thoroughly enjoy this work, it's a genuine Composers Community gem." (James)