Piano - Christmas (click on the images for the sheet music)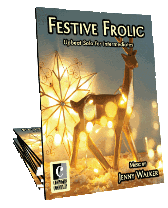 An original work depicting the journey made by a Troika, a Russian vehicle drawn by three horses over a snow-clad landscape.
Sometimes called "On Christmas Night All Christians Sing") this is a popular carol in England. It has a jaunty, 6/8 feel.It is a lovely, lilting carol with a joyous, rhythmic sway.
"Best Christmas Duet ever!! This piece has so many unexpected layers to it, I absolutely love it!! 😍 Thanks to Jenny Walker for creating such a unique piece of music! When we performed it, the audience was completely focused and captivated during the entire piece."
This duet is a fantasia based on the famous carol. It can be played by two intermediate/ advanced pianists or a student and teacher. It opens and ends with bell-like octaves and pedal notes.
An upbeat version of Silent Night! This is one of the most energetic and fun duet to play and listen to! It is definitely for solid mid-intermediates and above. Perfect for recitals or anywhere you have a crowd. Toes will be tapping! My son and I played it as people were leaving church today and had a blast.