Piano - Advanced (click on the images for the sheet music)
A waltz with a few surprises .
3rd prize, EPTA 2015
Reviewer - Pam Wedgwood
"Wow! What a great piece, and a true realisation of the title. You captured the mood perfectly with some dynamic time and key changes!"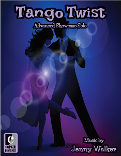 With its catchy rhythmic drive and harmonic twists, this is a joy to play, a pleasure to listen to and a showcase piece for adven-turous students and teachers alike.
'Definitely a showcase piece! A joy to play and listen to with a variety moods and colors all captured within this Tango.'
A fairly fast showcase solo with interesting harmonies as runners twist and turn and set a pace for others to follow.
"A substantial and strong piece - lots of excellent ideas here, and very well executed ... there is a trace of Debussy, with the colourful added note harmonies. Very good use of pedal points, and the unusual harmonic and tonal twists are very effective"
A captivating descriptive piece depicting an Irish stream from its small pure beginning high in the hills gaining volume and depth as it torrents through the forest. A reel interrupts the flow as the water dances over rocks and echoes of the stream are heard as it is swallowed up by the ocean. Winner of the 2014 European Piano Composers Competition,
'I inherited a diligent, hard-working 16yo boy. He found a piece on the internet that was very flashy and long, but it was without composer or copyright, not eligible to be a part of his exam repertoire. Thankfully, I knew of the Composer Community, found this great piece, and he immediately liked it. It is exactly as the description says--substantial and captivating, depicting a stream and its journey. WIN for both teacher and student!'